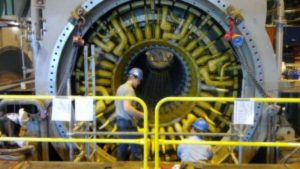 Turbine
Grit Blasting – Process and Benefits
Grit blasting, also referred to as abrasive blasting, involves the application of a concentrated stream consisting of abrasive media against a surface to affect the shaping, smoothing, or roughening of the surface, or the removal of contaminants on the surface. There are variations to this type of blasting process, each providing specific benefits, and applicable to particular projects.
Types of Particles Used
The abrasive particles and propellant used can be modified based on the required work – ranging from sharp emery particles propelled with high pressure steam or water to relatively soft particles driven by compressed air.
Purpose of Grit Blasting
Blast cleaning and sandblasting which are utilized to reinvigorate worn looking surfaces falls under the category of grit blasting and is a very beneficial service. The process can prepare surfaces for cleaning, repair, repainting, and producing an enhanced surface for adhesive cohesion.
It is recommended to grit blast your equipment before adding a nonstick coating to its surfaces in order to take advantage of the coating's full potential.
The results available through the service include the removal of burrs, corrosion, discoloration, flashing, paint, rust, scale, and more.
Benefits of Grit Blasting Over Other Techniques
Grit blasting is such an effective and popular surface treatment for various applications due to the following reasons:
It takes less time than other traditional methods such as wire brushing or sanding down a surface to prepare it
The equipment required is relatively affordable
Is a natural technique, it enables new seal, paint, or protective coating to adhere more effectively
No scaling is left behind on the surface
Highly efficient and effective in eliminating contaminants such as rust, preparing the surface for painting
Enables the creation of patterns, a result which is more difficult to achieve through other techniques
Provides the potential for long-lasting surface results due to its accurate and residue free characteristics
Relatively inexpensive with the potential to recover and recycle multiple types of abrasive media
If you are in the market to benefit from grit blasting services for your industrial equipment, contact an experienced turbine and rotating machinery service company today to learn about your options.